Blast incidents in recent years show that most of the terrorist attacks on public structures were explosions within short stand-off distances. In this context, columns are the most vulnerable structural components and their failure is the primary cause for progressive collapse in framed structures. On the other hand, many of the research efforts in this field have been devoted to the effects of far-field explosions on structural elements. The effects of near-field explosions on structural elements, especially columns, have not been widely investigated.The three basic strategies for protecting columns and preventing a possible collapse are Establishing a secure perimeter by placing physical barriers that prevent a nearfield explosion. However, this alternative is not always possible due to limited space or functionality, Reinforcing the columns by increasing their strength and ductility and  Absorbing blast energy received by the column with sacrificial cladding layers.The steel jacketing is the most common retrofit technique, within the second strategy mentioned above. It usually involves wrapping steel plates, steel strips or steel bars in the transverse direction. The advantages of steel jacketing are: a small increase of the cross-sectional dimensions; ease and speed of construction; lower cost of structural intervention and interruption of use. Moreover, the general consensus in the current literature is that rectilinear jacketing is usually effective for increasing the strain capacity and the ductility of the columns, although it may or may not increase the strength of the column. On the other hand, steel jacketing is not the only method that improves the response of the columns. Increasing the residual strength of the column itself is another option. Alternative materials and constructions from the field of protective structures, like polymer concrete or high-performance fiber concrete can be used. Other alternative consisting of columns made with ultra-high performance fiber reinforced concrete is presented in. The third strategy mentioned above is a vast field of research where several types of sacrificial layers have been studied and pro-posed. The sacrificial layers absorb energy and in doing so undergo a significant amount of deformation. First developed for the automobile industry, the use of sacrificial cladding was rapidly extended to different types of structures and buildings. These protections are usually sandwich panels with crushable cores like metallic foams that provide high energy dissipation. Similarly, crushable materials can be reinforced with different types of metallic structures. Low-density polymeric foams, textile materials and low-density metallic foams are excellent in reducing the risk of damages from ballistic impact. However, under blast loading, a "shock enhancement"phenomenon has been observed, that is, transmitted pressure is amplified, rather than attenuated as one might expect. Another possibility of deformable energy absorbers are circular or square tubes, honeycombs cells and corrugated tubes where the plastic energy can be dissipated by axial crushing, splitting, lateral indentation and lateral flattening.
You can see a figure about assemble parts and real test at below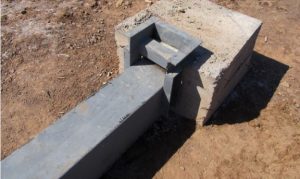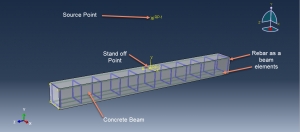 To model proper behavior of concrete beam define a the material property which consider the damage variable is very necessary .Dynamic explicit is appropriate for this type of analysis and CONWEP procedure has used as blast way. Using small mesh is a another important things which be considered.
You can see some figures about the results at below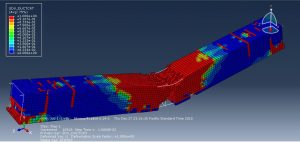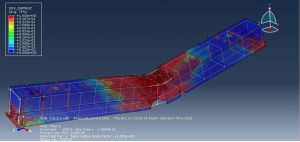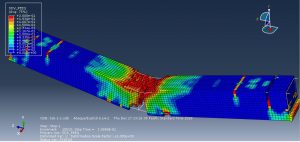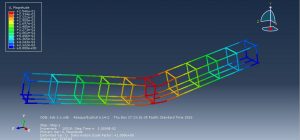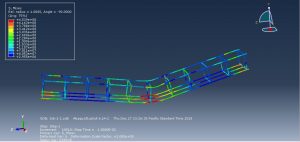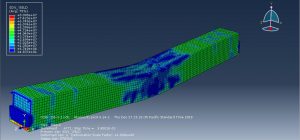 You can provide CAE ,INP,and English video files of this simulation here. The cost of these files are Thirty Three US Dollars. you can click on the bellow bottom to beginning process
This is a important point when you want to select the payment port,select ROD PAY(this is a payment port for foreign buyers) and you can pay just with Bitcoins
If you haven't Bitcoins You can pay it with PayPal or Master card just send me an email to this address:karampourp@gmail.com