In this course, we explained the Coupled Eulerian-Lagrangian, Smooth Particle Hydrodynamic, Acoustic, and CONWEP blast procedure in detail during twenty-three separate tutorials which you can see their title below. We provide this course because some people use our tutorials to create courses on Udemy but if you ask them questions regarding the tutorials, they can't answer because they are just copying our tutorials there.
During this course, you will learn the theory of CEL, SPH, Acoustic, and CONWEP explosion base on the papers and Abaqus documentation. We use step-by-step video and all students such as beginners or professionals can use our course. During the tutorials, we teach TNT modeling and JWL equation, equation of state for air and water, Volume fraction and uniform material method, acoustic method, SPH, and CONWEP blast definition.
In the material section, we explained all details about Concrete material model like CDP, Johnson-Holmquist,  Ductile and shear damage for stell also Johson-Cook hardening and damage, Ceramic and silicon carbide modeling and its damage criterion through Abaqus CAE, and codes to define new damage criteria like JHB or JH2
in some of the videos, Ultra-High Performance concrete material is modeled as the CDP plasticity, mixed concrete-like wood-concrete beam, RC column and beam, NS concrete behavior, Pilled-Raft concrete, masonry wall, and … are explained in detail.
Composite material like CFRP and BFRP has defined Hashin's damage criteria and also the lamina model for the elasticity or engineering constant.
In the Acoustic method, the Under Water explosion on the floating and embedded structure in the water is investigated by using the UNDEX method.
Totally, during this course, you will learn all things about explosion modeling in Abaqus and you don't need any other courses and we will be responsible for our tutorial and we will answer your question after providing this course.
The titles of our course
Simulation blast explosion over the composite panel(Steel-Aluminum-Ceramic-CFRP) in Abaqus
Simulation air blast explosion over campsite slab(UHPC-Steel) by using cohesive interaction in Abaqus
Simulation air blast explosion over a Wood-Concrete slab reinforced with BFRP lamina in Abaqus
Simulation air blast explosion over the RC beam reinforce with Banana-Epoxy lamina in Abaqus
Simulation air blast explosion over the UHPC slab reinforced with BFRP composite in Abaqus
Simulation air blast explosion over the composite RC slab( UHPC and NSC) in Abaqus
Numerical simulation on damage mechanics behavior of a pipeline under internal explosion in Abaqus 
Simulation blast resistance of the composite slab(ceramic-Aluminum foam) under sequential explosion in Abaqus
Simulation sequential air blast explosion over the concrete slab reinforced with CFRP sheet in Abaqus
Simulation Coupled Eulerian-Lagrangian Explosion over the Reinforced Concrete Beam in Abaqus
Simulation CEL explosion in the depth of soil near a solid steel pipe in Abaqus
Simulation CEL explosion in the depth of soil near the concrete pilled-raft structure in Abaqus
 Simulation CEL explosion over composite panel(Steel and Aluminum Foam) in Abaqus
Simulation CEL explosion over the composite panel(Concrete-Steel bar-Steel sheet) in Abaqus
Simulation CEL explosion inside the steel pipe embedded in the depth of soil in Abaqus
Simulation of hollow steel piles subjected to buried blast loading(CEL explosion) in Abaqus
Simulation CEL explosion inside the concrete tunnel in interaction with soil in ABAQUS
Simulation coupled acoustic–structural response of hull subject to the underwater explosion in ABAQUS
Simulation on shock response of marine sandwich structures subjected to UNDEX loading in Abaqus
Simulation SPH explosion near RC slab by using CDP model couple with strain rate in Abaqus 
Simulation internal explosion by using SPH method in Abaqus
Simulation SPH explosion inside the RC column with outer steel box cover in Abaqus
Simulation SPH explosion over masonry wall (micro model) in Abaqus and damage investigation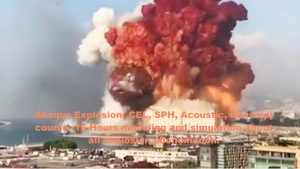 The cost for this course is Seventy-Eight Euros and this is much better than the Udemy course because of our responsibility that we have about our tutorials and also this is an original course, not a copy
If you want to provide this course, you can pay through a PayPal account, a Visa, or a Master card. Before payment, send me a receipt and then I will guide you for the payment process: karampourp@gmail.com