In this tutorial, the Simulation cutting process of the silicon carbide(ceramic) material by using a rigid body in Abaqus has been investigated. The silicon carbide is modeled as a three-dimensional solid part. The cutting tool is modeled as a three-dimensional solid part. You can see a figure of the assembled parts below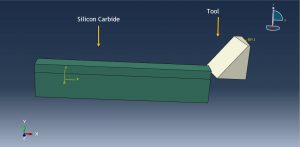 Silicon is a widely used semiconductor material in optoelectronic industries for its unique chemical, physical, and me-chanical properties. For instance, monocrystalline silicon is the basic technological photovoltaic material for solar cells. Ultra-precision optical machining is commonly applied to achieve ultimate surface finish of silicon, which has an important influence on the mechanical, optical, and electrical performance of silicon-based components and devices. In this tutorial to model silicon carbide behavior, the shear modulus, Us-Up equation of state, drucker-prager plasticity, and ductile damage with evolution is selected. These parameters can show a good behavior of the brittle material under cutting or sever load. The dynamic explicit step with mass scale technique as a time target type to create quasi-static model and reduction simulation time are used. The general contact capability with frictional behavior for all parts is the contact domain is selected. The fixed boundary condition is assigned to the bottom surface of the silicon carbide and displacement as a load is applied to the cutter part. The mesh should be so fine at the the contact zone to increase the accuracy.
After the analysis, all results such as stress, strain, damage, failure, chips, and … are available. You can see some figures for the results below.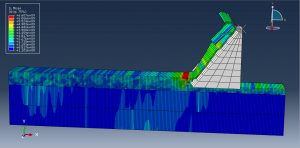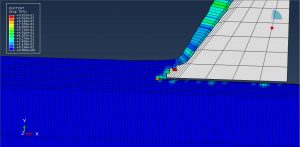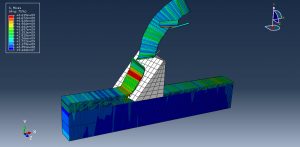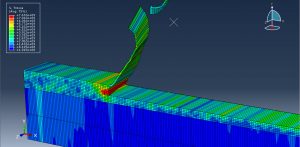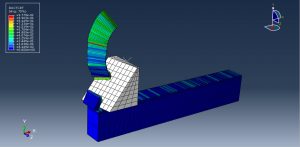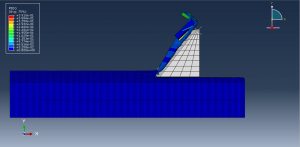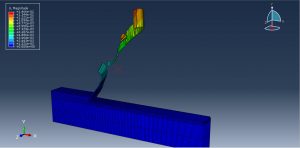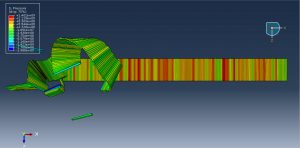 You can provide CAE ,INP,and English video files of this simulation here. The cost of these files is Twenty-Eight Euros. you can click on the bellow bottom to beginning process
You can purchase the tutorial through a PayPal account, a Visa, or a Master card,  just before payment,send me an email to this address: karampourp@gmail.com