In this tutorial Simulation Smooth Particle Hydrodynamic explosion over the RC slab in Abaqus-Damage investigation- has been studied.RC slabs, as the principal components for engineering structures, have been widely used all over the world. However, blast loading, especially from contact explosion, can cause significant damage to the target structures. By comparing with non-contact blasts, nonlinear dynamic response of RC slabs to contact explosion is a more complex nonlinear problem as it involves the material and geometric nonlinearity, loading rate dependent material properties, dynamic interactions among the explosion products and the structure, and time dependent structural deformation. The RC slabs to contact explosions will undergo crater, large-deformation, spalling and even punching. Although the damage characteristics of RC slabs subjected to contact explosion have increasingly attracted attention in recent years, the understanding of contact explosion loading is still relatively incomplete. The damage mechanisms of RC slabs subjected to contact explosion are as yet unresolved, but widely studied.
The concrete slab is modeled as three dimensional part with specific material model to consider damage behavior under high rate loading like explosion.The bars are modeled as wire part with beam element and elastic plastic behavior . The TNT is modeled as cube with JWL equation of stat which consider the conversion of chemical energy from detonation to the mechanical pressure. You can see the assembled parts at below figures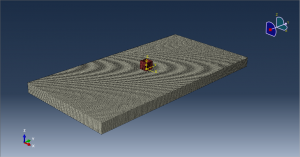 Dynamic explicit procedure is appropriate for this type of analysis. General contact between slab and TNT is considered. The bars are embedded in the concrete slab as embedded region constraint . The fixed boundary condition is assigned to the slab . The mesh quality has a great  effect over the results. To define SPH formulation Abaqus CAE and input file to generate PC3D element can be use.
After the explosion the damage propagation on the slab and other results like stress,strain and TNT pressure can be investigate. You can see some figures of the results at below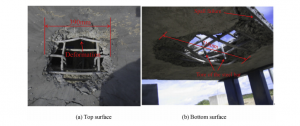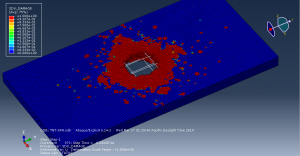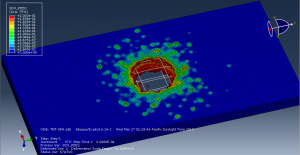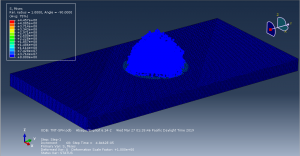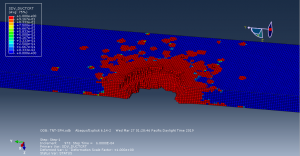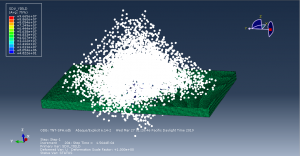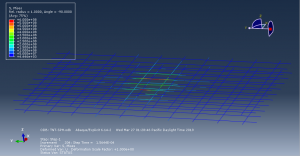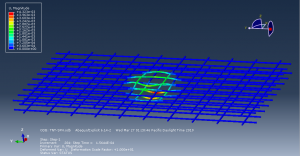 You can provide CAE ,INP,and English video files of this simulation here. The cost of these files are  Thirty two US Dollars. you can click on the bellow bottom to beginning process
This is a important point when you want to select the payment port,select ROD PAY(this is a payment port for foreign buyers) and you can pay just with Bitcoins
If you haven't Bitcoins You can pay it with PayPal or Master card just send me an email to this address:karampourp@gmail.com