In this tutorial, the High-velocity impact of a bullet on the RC panel- Paper validation- is investigated. The dimensions are extracted from the paper. The concrete slab is modeled as a three-dimensional solid part. The steel reinforcements are modeled as three-dimensional wire parts. The bullet is modeled as a discrete rigid body. You can see a figure of the assemble parts below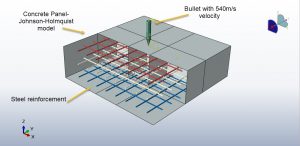 The material is used base on the paper information. The concrete johnson-Holmquist model that is available through a VUMAT code or input file modification is selected to consider damage under the high-velocity impact. To model steel reinforcement JC hardening and damage are considered. The dynamic explicit step with 0.001 seconds as step time is used. The general contact capability with erosion effect to consider internal failure as input code is used. The fixed boundary condition is assigned to all sides of the panel and the initial velocity to the bullet.
After the simulation, the results like the residual velocity for the bullet, kinetic energy, deformation, damage shape, are the same as the paper. The residual velocity for the paper and simulation is reached as the same.
After the simulation, all results such as stress, strain, damage,… are available. You can see some figures for the results below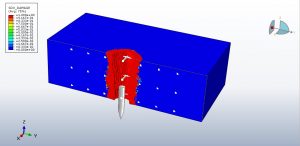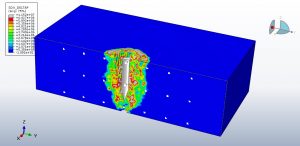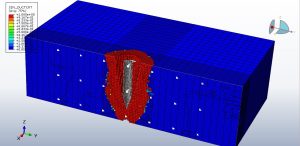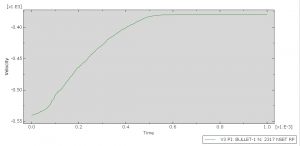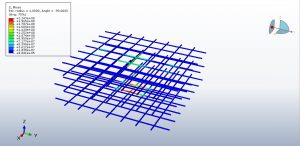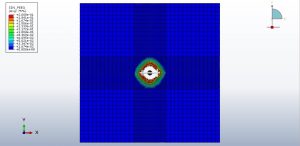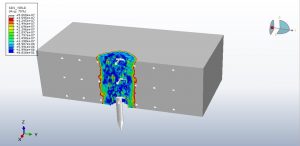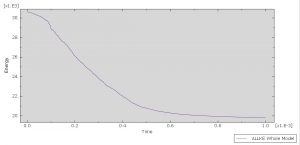 You can provide CAE, INP, and English video files of this simulation here. The cost of these files is Thirty Euros. you can click on the bellow bottom to beginning the process
You can purchase the tutorial through a PayPal account, a Visa, or a Master card,  just before payment, send me an email to this address: karampourp@gmail.com